Hiiii friends! We're back with Part 2 of our basement project.  Did you miss Part 1? Read about it here.
At the end of the last post, I gave you a little preview of the wall color we chose to cover up the bright red we inherited…annnd it's blue!
That looks crazy, I know.  I was a little worried when I opened the lid, considering I had asked for Benjamin Moore's Marine Blue, which is significantly darker:
And is supposed to look like this in a room:
Thinking (ok, hoping) it would look much darker on the wall, I put on the first coat:
Ok…still kinda bright…
…stillllll pretty bright (except where it was covering the red instead of the white primer). Bryan called it "Smurf-like" at this point, which isn't exactly the look we were going for.
(There's the door Bryan installed!)
Annd…this is probably when I came to the realization that covering a dark red wall with white primer before trying to paint it dark blue wasn't my smartest decision ever.  This was later confirmed by the paint store when I returned to buy a 2nd gallon and they kindly told me I should have used a dark primer.  Ok – I do a fair amount of painting and never knew such a thing existed. Dumb. They said another coat should do it, so I was happy.
So, while we were waiting for the paint to dry (literally), we realized that the black ceiling didn't look so hot with the blue walls.  We had played around with the idea of putting in a drop (aka suspended) ceiling, and now we didn't really have a choice (besides getting a sprayer and painting the ceiling a lighter color…that doesn't sound messy at all).
Luckily, Lowe's has a decent selection of drop ceiling options.  Since we were trying to be as cost effective as possible, we ignored the fancy panels like these, which retail for a whopping $17 EACH…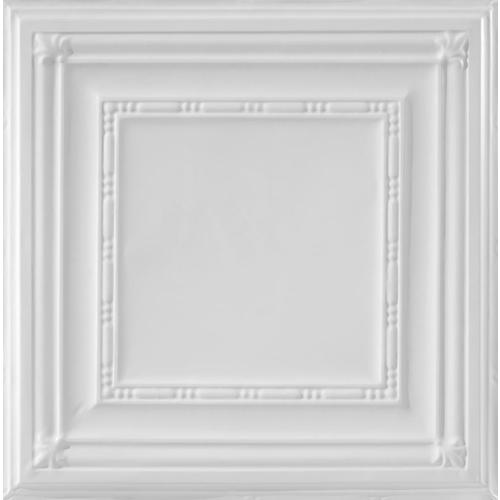 And went straight to the aptly-named "commercial" section.  Basically, these are your standard office building/school ceiling tiles: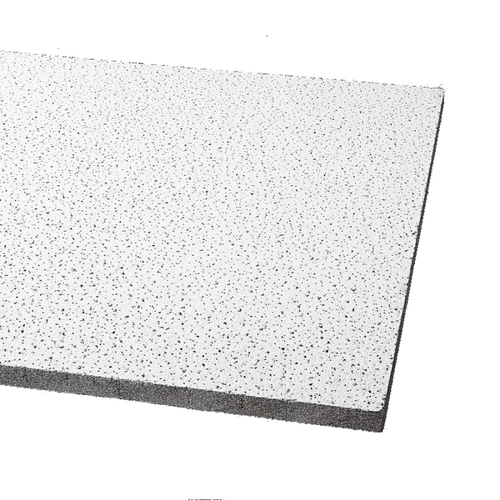 These are relatively inexpensive, coming in at just over $4/each…we bought a few packs of 16 2′ x 2′ tiles for $68.28 each.  Although the price was right, the main reason we picked these was that they were one of the few tiles Lowe's keeps in stock – the rest were special order and could take almost a month (!) to come in. Sorry…no patience for that.
The brand we bought is Armstrong, and they had a really nice planning tool on their website which helped us figure out what we needed for our room after entering the dimensions:
(Yes, that is a picture of a computer screen. Ghetto.) It ended up being almost correct…but we definitely had to make a return trip for a couple extras, and we have a few unused pieces that are waiting to be returned. No big deal.
Here we are at Lowe's. Bryan's face tells you how helpful I was being in this process, snapping pictures for the blog instead of helping :/ Oops.
The installation of the ceiling was actually pretty easy (Armstrong's website also has a tutorial video and lots of FAQs that we referenced quite often).  The hardest part was figuring out the layout of the tiles, since most rooms aren't perfectly sized to fit full tiles all the way across.  Basically, you don't want to end up with a row of six inch tiles when you have full 24-inch tiles everywhere else. We figured it out with the help of the online guides, and got to installing.
First thing to go up was the wall moldings, which are the border ledges that hold up everything else. Here's the first piece, about 3 inches below the existing molding:
Apparently there are only a couple rules for these types of ceilings.  First, make sure you keep everything level. Second, stay about 3 inches below any pipes/wires/stuff in your existing ceiling. Easy peasy.
We had a few quirky areas in the ceiling where a random duct would be protruding too far into the room.  If we had based the height of the ceiling on those, it would have ended up being way too low. Instead, Bryan built a couple boxes to cover the ducts:
We painted them blue so they blended with the wall, and installed the ceiling around it:
Unfortunately, we installed the box to be level with the old ceiling, and shock of the century, that ceiling isn't level (nothing in our house is). So, that's why it looks a little wonky compared to the wall molding installed in the picture above.  Oh well, it blends in and we hardly notice it.
Anyways, once the wall moldings went up, we just snapped the grid together and started popping in the tiles:
I guess now is a good time to talk about the lighting situation in here.  The room already had a few can lights, but they were obviously installed to be even with the beams in the ceiling.  We were super safe and called an electrician immediately tried to do it ourselves first, but after a few minor shocks we used an Angie's List "Big Deal" to hire an electrician for a couple hours to move them all for us.  So, we avoided this situation:
We also had him remove the wine glass light fixture from the bar area…remember this one?
And we replaced it with a simple pendant.  But unfortunately, I can't show you until the next post because this one is already too long and rambling.  On Friday I'll show you what we did to the lower half of the walls, and lots of other fun details!
xox,
katie