So, it's painfully obvious that I don't really have time to write this blog anymore, right? Yeahhhhh…apparently when you have a full-time job, blogging gets a little more difficult.   Doesn't mean I'll stop…just might be awhile in between posts.  I appreciate those of you who still check in every once in a while!
Just because we're busy working doesn't mean we've stopped all our projects.  This summer, our main focus has been improving the outside of our house…particularly our backyard.
Actually, I call it a backyard, but it is really a big deck and a postage-stamp sized patch of grass.  For purposes of this post, the grass is unimportant.  Let's focus on that deck…
Hmm. Yeah.
Actually, you might remember that one of my Houseolutions this year was to give the deck a little makeover.  We've had our eyes on a product at Lowes called "Restore" for a while.  It promised to resurface the deck and seemed pretty easy to apply.  So, one day we just bit the bullet and picked up the supplies.
We read a bunch of info online before deciding on this product.  Based on reviews and the Restore website, we figured we'd need 2 of the big buckets to cover the deck (we ended up having leftovers, but 1 wouldn't have done it).  We also picked up the stain so we could make sure the rails matched (the resurfacer is not recommended for vertical surfaces).  As far as color, we ended up going with one called "Timberline" (below).  Once you pick the color, the paint dudes at Lowe's mix it into the product and stain, just like you were buying paint.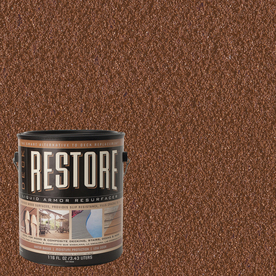 We started by prepping the surface.  The product recommends power washing but we went ahead and skipped that part out of laziness/lack of power washer/not wanting to wait for it to dry.  Instead, we used a leaf blower and broom to get as much dirt off as we could, and used a small sander to even out any rough spots.
Here's some evidence of why we needed such a heavy duty product…nail holes, cracks, and huge spaces between some of the boards…
We used some caulk to fill in some of the bigger spaces, just to give the stuff something to stick to:
Pretty sure this counts as cheating in the deck restoration world, but I don't care.
So once things were all prepped, we got to work on applying the first coat.  The general consensus with online reviews is that it goes on like sandy paint.  Some reviews recommended watering down the stuff to make it easier to apply.  Almost all reviews recommended against buying the Restore-brand special roller.  In the end, we skipped the pricey roller (instead using a couple of roller covers made for painting stucco, so they were nice and thick) but also didn't water anything down.  I don't know about the recommended roller, but if you use regular ones you will definitely need a fresh one for each coat.  This stuff destroys rollers.
Anways, we started rolling on the first coat…

And of course had the same reaction that you're having right now….something like, "wow that's super orange…"  Yep.  Sure was.  Don't worry – it mellowed and darkened with a couple of coats.
The consistency was also just what we expected…thick, sandy paint.  Here's a close up of a thin first coat we put on the top rail:
And after a couple of coats:
The instructions recommend 2-3 coats, so we painted ourselves off the deck* and took a break.
(*when we painted ourselves off the deck, we also painted ourselves away from the only unlocked door to our house. Typical.)
Speaking of the above picture, you can see the rails and other places where we ended up using the stain instead.  We just applied it with a small roller and it basically covered the old deck color in one coat.
Anyways, by the end of the afternoon we had a couple of coats on and most of the hard work was done (this stuff was not the easiest to roll on…maybe watering it down would've helped a little?). I'm happy to report that it really did a good job of a covering splinters, nail holes, etc.  After going back and touching up with the stain, our deck looked totally different.
We still want to paint the fence, but that might have to wait til next summer.
That's it for this one! Enjoy the weekend :)