Thanks for all the positive comments about our new dining room color…I am pretty much obsessed and now have the urge to repaint the entire house.  Bryan says no. Sad face. Something about how I should be working, blahblahblah.  FINE – I'm going back to work on Monday but I'll paint this house if it's the last thing I do if I have time. It's one of many projects on my wish list…hoping to document that soon.
Anyways, back to those naked walls.  As you may know, we had this big party in October. As a result we ended up with tons of amazing pictures, such as:
and
and
Ahhh…all my childhood Disney-induced dreams realized. Thanks to our amazing photographer, we also ended up with several pictures that show the "real" us:
Don't worry – they'll all be making an appearance somewhere in our house, but I figured that the more formal ones were probably more appropriate for our fancy gray dining room. Luckily, we registered for a bunch of frames, including these 8×10 silver ones that I thought would be perfect for this project: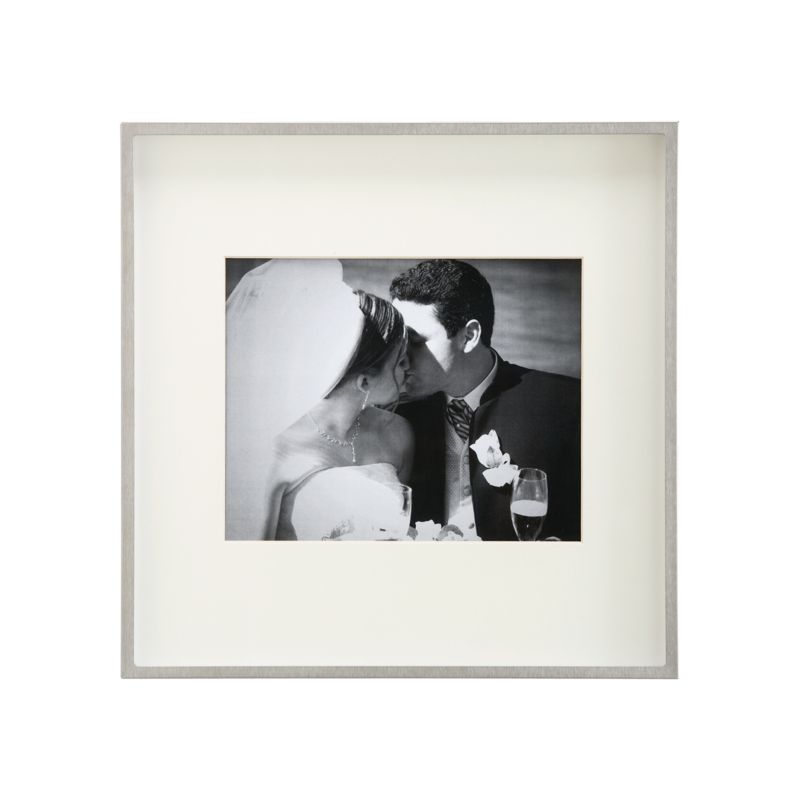 Since we got the rights to all our wedding photos (which I highly recommend!), we can easily get them printed anywhere we want very inexpensively.  After choosing a few of my favorites, I popped them in the frames and they were ready for the wall.
Except one thing.  Historically, I destroy walls trying to hang things.  It's probably my lack of a "measure twice nail once" mentality…I'll punch a few holes in the wall, realize it isn't level, then punch new holes to cover up the bad. Typing it out only makes it more obvious what an idiot I've been.  So, to preserve my freshly painted walls, I bit the bullet and took a tip from the blogosphere to use paper cut-outs of whatever you're trying to hang to ensure everyone is level and laid out properly.  The process I used certainly was not one of my own creation, but after trying it I'd have to say I'm a BIG fan and will be using it from now on.
This is super easy.  Basically all you need is your frame, some newspaper (or craft paper, or printer paper…whatever you have on hand that is as big as your frame), some painter's tape, and a level.
(Yes, I framed that picture…it's going in our living room.  It was also our Christmas card.  I kind of love it.  And obviously, the newspapers in our house are lame and we always have extras – we get two copies since we're both lawyers.)
Cut out your paper to the same size as your frame…I just traced and cut.
Here's where this saves me SO much time and frustration – see those brackets on the back of your frame?
Mark them on your paper (and ignore my gross un-manicured nails):
Then use a level (we have a handy laser level but a regular one would work too) to make sure the top of the paper is straight, wherever you plan on hanging the frame.
This trick would also be great if you were hanging multiple frames and wanted an idea of of the layout. I just chose to hang one on each side of the window, so I just made sure they were uniform heights off the chair rail and somewhat centered in the space.
When you're happy with spacing and have checked for level, nail straight through the marks you made earlier:
Then rip the paper down (or carefully remove it…whatever is more your style). The nails obviously stay in place and are MAGICALLY perfectly spaced for your brackets! Whyyyy oh why did I never think of this before?
Rinse and repeat for the other side:
So, that wall was taken care of. There was still a big blank space on the opposite wall dying for some color, so I shopped our house and noticed the awkwardness of this canvas behind our TV:
It never really looked right in that space (we just hung it there to cover up some huge , and actually had some gray in the background